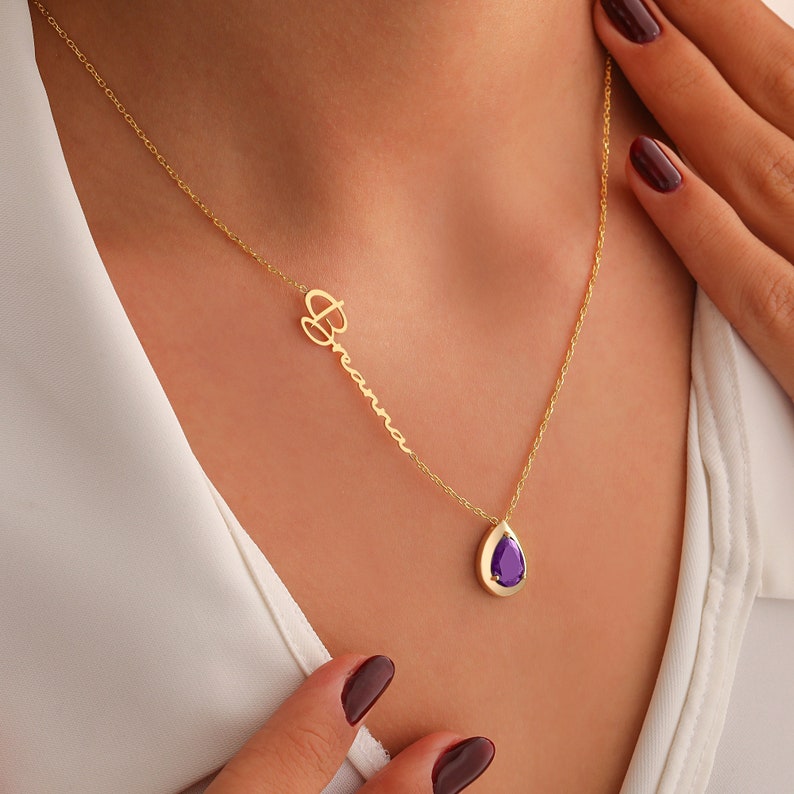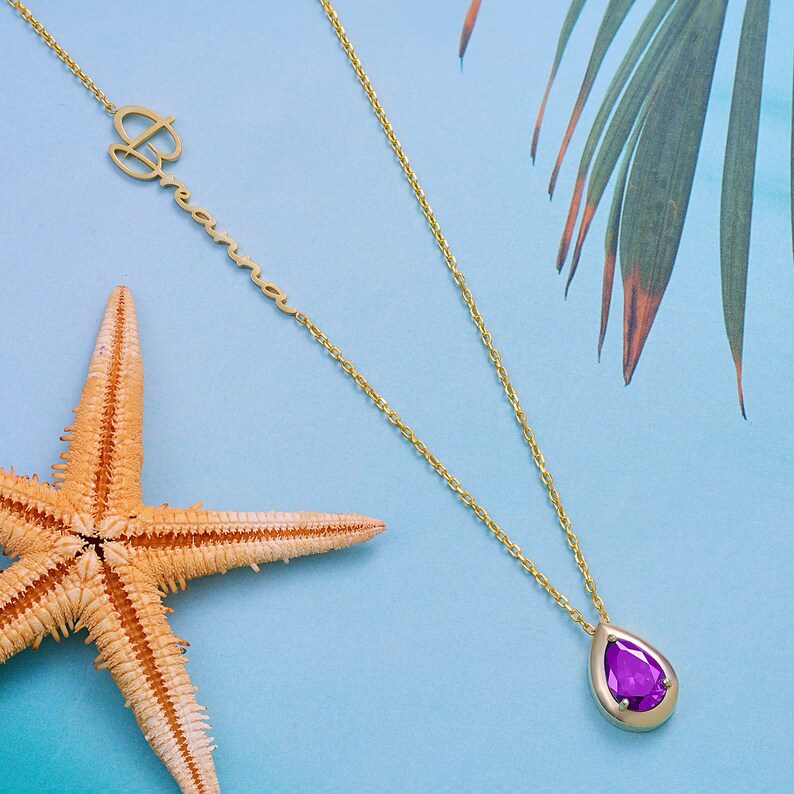 February Birthstone Necklace
A custom pendant necklace personalized for souls born in February. This elegant necklace comes with the February gemstones - amethyst - selected by our jewelers to create the perfect energetic combination for you or your loved one born in February. In a timeless but elegant solitaire pendant design with a single teardrop gemstone set on a 18" cable chain with lobster clasp available in gold vermeil, sterling silver or rose gold,

The amethyst birthstone that comes with your name necklace is uniquely personalized that it may bring the one who wears it the perfect energies and good fortune, plus a custom name engraving for the wearer.

It's truly a made-to-order treasure that will last forever.
Your Birthstone - Amethyst serves as a conduit to other realms. It's an immensely intuitive stone that aids in spiritual development and the psychic senses. This light purple stone addresses unhealthy attachments and promotes the purification process.


Make it Yours! While first names are traditional, surnames and romantic pet names are fun ways to make your personalized birthstone necklace stand out. You can also customize with an an inspiring word, or the name of a special place you'd like to keep close to your heart. Choose whatever moves you!


Custom-made pendant necklace with you or your loved one's unique birthstone
Bespoke engraved necklace, made from 14-karat gold vermeil, rose gold or sterling silver
The 18" included gold/silver cable chain has an additional adjustable 4" with lobster clasp, allowing for length up to 20"
Handmade and engraved with love by a family-run jeweler in Southwest USA
Ships 3-5 days after handcrafting
Gift Hint: This is perfect for February birthdays! yet can be given anytime of the year - For Mom, Bridesmaid, Girlfriend - Anniversary Gifts, Keepsake Gift, name it! Exclusive jewelry for you and your loved one ♥
Check out our personalized birthstone necklace collection for the months of January, February, March, April, May, June, July, August, September, October, November and December to celebrate the special month for the special person in your life.